Illusions Vinyl Fence is manufactured in state-of-the-art facilities by a company that has been manufacturing and distributing fence products for over 40 years. All of their vinyl products are made with only 100% Pure Virgin Vinyl and meet or exceed ASTM F964 specifications.
PVC Vinyl Fencing is environmentally friendly, virtually Maintenance Free and backed by our Manufacturer's Warranty as well as our written Labor Warranty.
PVC Vinyl Fence Repair are also part of our business too! With our fence repair services, your investment will soon be as good as new!
We offer high quality service to help improve the appearance and security of your property. If you would like a free estimate, feel free to call us at (631) 842-5858 or fill the sidebar to contact us.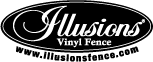 Literature Brochures below